Longford & District Schoolboy/girl Soccer League
Longford & District Schoolboy/girl Soccer League
Established 1991
News Report
7-A-Side Rules & Girls Rules Oct 2013
26/10/13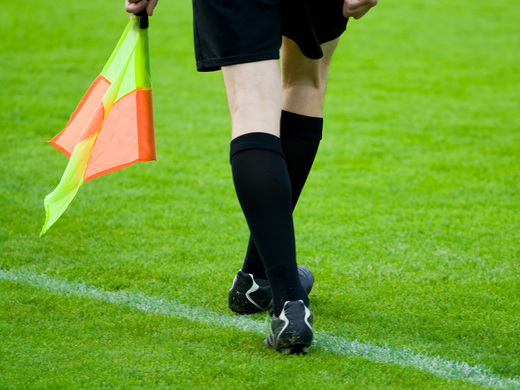 Duration of matches: Under 8: 15 minutes each half MAX
Under 9, 10 & 11: 20 minutes each half
Under 9 Girls: 15 mins each half MAX
Under 11 Girls: 20 mins each half
Under 13 Girls: 25 mins each half
2. Size of Ball: Under 8 Boys & under 9 Girls: size 3 (if available)
All other 7-a-side age groups: Size 4
Substituted players may be re-introduced into the game.
Substitutions must be made during break in play with referees consent.
5 A Sideline balls can be kicked-in from the ground instead of a throw-in. A goal CANNOT be scored directly from a kick-in/throw-in i.e. it does not touch any other player. A goal kick is awarded.
5 B Goalkeepers may take goal kicks out from the hand from within the penalty area.
No limit on number of substitutes once they are listed on card.
Rule 5A & Rule 5B apply ONLY to the following age-groups: Under 8 & under 9 boys; under 9 Girls & under 11 girls. In all other age groups throw-ins are used for a sideline ball and the goalkeeper must take a goal kick from the ground.
Defending team must be at least 6 yards away from the ball at free kicks.
Penalty kicks shall be taken from a mark 10 yards from the goal.
No Offside rule, however all other standard rules apply except where noted above.
ALL matches should start on time. Referee can allow up to 15 minutes delay to allow a team to field.
ALL players used must be listed on match card PRIOR to kick off and signed by team representative.
While there are no cards issued, a player can be ?sent off? in extreme cases. Normally the referee would request the team coach to substitute the player and not allow that player to re-enter.
In the event of penalty shoot-outs each team has 3 and is sudden death after 3. ANY player listed on card can take a penalty.
REFEREE FEES: 16 euro per game. ( 8 euro per team). Referee should be paid before the game.
Follow the site to get the latest news and results straight to your email