Longford & District Schoolboy/girl Soccer League
Longford & District Schoolboy/girl Soccer League
Established 1991
News Report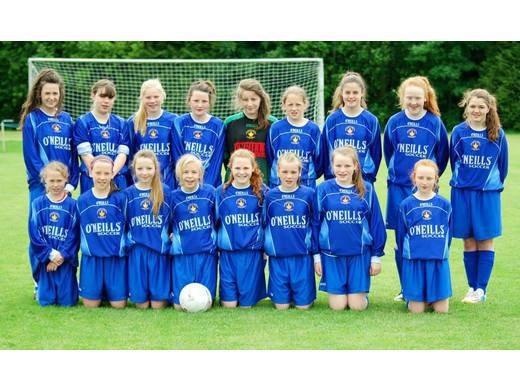 Longford & District Schoolgirl League took part in the girls Under 14 Gaynor Cup in the University of Limerick on the June Bank Holiday weekend. Preparations had been ongoing for several months for the first Under 14 Girls squad to travel to Limerick. The team had played two friendlies, losing narrowly to Sligo/Leitrim and drawing with North Eastern Counties League.
At last the great day came: Sat 31 May. It was an early start for all as the team bus left Abbeycartron at 6:30 am. The roads got better as we approached Limerick and it was not long before we were passing the Mick Mackey roundabout ( who is he? ) on our way into Limerick to the University. The team were staying in Kilmurry Village ( no a in Kilmurry ) very close to the playing fields. First game was at 10:45 against Wexford on Pitch No 3. Decked out in the pink of Mick Wallace they proved formidable foes. Wexford took an early lead but Longford replied a brilliant overhead shot from Sarah Dillon. Honours even at almost half time, but Wexford sneaked in another goal on the dot of half time. The 2nd half belonged to Wexford and they ran out 4-1 winners. Meanwhile Galway were 4-0 up against Clare at half time, and their manager came over to plot the downfall of Longford later that day.
The next game in the early afternoon was against Galway. Perhaps it was the old trick of food and recovery from the bus journey, but everyone raised their game by at least 20%. Half time came and went and still no score; maybe some giant killing was on the way. Alas near the end Longford tired in the heat and sun and Galway ran 2-0 winners.
The third game of the day was againstKerry; yes you read that right, the third game! Longford threw everything at them even a 4-3-3 formation, but the Kerry defence held firm to give a 0-0 final score. At least we now had one point on the League table.
Sunday morning was cool and damp; some say the real Gaynor Cup starts on Sunday. First up was the Inishowen League with 3 wins from 3 games on Saturday. Holly Carrig Cassidy was the star of the show with super-fast runs up the left wing and it seemed only a matter of time before she would score. However she was seriously injured in a collision with an Inishowen player and she had to retire from the field. She was brought to hospital by ambulance. In the meantime, Sarah Dillon had taken over from Holly and had given Longford an early lead. In the second half Longford hung on and on to the 1-0 lead; would this game ever end?In the final minute, the ball was put through to Laura Christopher, who lobbed it in slow motion, over the goalkeeper?s head into the back of the net. At last a 2-0 win for the Longford ( and District ) girls.
The last League game was against luckless Clare who had lost all their games so far. Longford were superior to Clare but only won 1-0 thanks to yet another goal from Sarah Dillon. This time it was a long shot from the right wing which drifted high over the Clare goalkeeper into the left hand corner of the net. Longford now had 7 points from 5 games and were in with a chance of making the Gaynor Plate Semi-Final. All that was needed was a draw between Kerry and Wexford. The meeting in Kilmurry Village Hall would inform us of our fate. However Wexford had a big win over Kerry and this meant Longford were in a play-off for placings 9-12.
Monday morning saw Longford playing Sligo/Leitrim, who had beaten Longford 3-2 in a friendly a few weeks previously. Longford sprang into an early lead with a pass from Jessica Barry to Sarah Dillon who scored with an overhead kick. Sligo/Leitrim equalised in the second half but Jessica Barry was determined to win this game for Longford with a great goal near the end.
The last game was against the Limerick Desmond League. Once again Longford took an early lead after 8 minutes with an overhead shot from Jessica Barry. However Limerick scored 2 goals to take a 2-1 lead by half time. The next goal was all important. Longford had to defend a number of frees and eventually conceded a penalty. Curtains for Longford! Every good team has a great goalkeeper behind them and so it proved when Aine Barry pulled off a great penalty save. This energised Longford to get the next goal. But Limerick held out and scored the final goal a few minutes from the end.
That was it then or so it seemed; Longford finished in 10th place out of 18 teams ahead of Sligo/Leitrim who finished 11th and Roscommon who finished 12th. But there was a Final twist. Later that afternoon the Metropolitan League ( Dublin ) were playing Galway in the Gaynor Cup Final. It was 0-0 for much of the game ( just like the Longford Galway match ) but a single goal from Galway late on won it for them. Guess who won the Gaynor Plate? Wexford. Was Longford in the toughest group?
The Committee would like to thank McCarrick Brothers Cash & Carry for their help and support in bringing the Longford Gaynor Cup team to Limerick. The Longford Gaynor Cup team which travelled to Limerick was as follows: Aine Barry, Aoife Gerety, Orla Nevin, Sarah Dillon, Clodagh Dillon, Holly Carrig Cassidy, Aisling Smith, Jessica Barry, Laura Christopher, Megan Jobe, Ciara Healy, Eve Nerney, Joanna Sheridan, Leah Brady, Kayla Brady, Eabha Whelan, Tonicha Lee.
Click on link below to see overall report on Gaynor Cup and also the complete rankings from 1 to 18.
Follow the site to get the latest news and results straight to your email